Merce – Pineda de Mar
(Update Juli 2022)
8-daagse Autovakantie naar Catalonië bij Merce
Dit hotel ligt op loopafstand van het strand en heeft een rooftop zwembad met panoramisch uitzicht over de stad. Ook staat het animatieteam hier in het hoogseizoen dagelijks klaar voor jong en oud. Je voelt je helemaal op vakantie in dit authentieke Spaanse dorpje, waar het ontbijt en diner met verse producten dagelijks voor je wordt klaargemaakt.
Plaats: Pineda de Mar
Regio: Catalonië Costa Doranda
Land: Spanje
Soort: Autovakantie hotel
Vervoer: Eigen Vervoer
Categorie: Autovakantie/Spanje/hotel
Auto huur inclusief: hotel
Auto huur optioneel: Nee (U kunt altijd zelf een Auto Huren)
Inclusief vlucht: Nee
All Inclusief: Nee
Auto vakantie: Ja
Stedentrip: Ja
Zon vakantie: Nee
Adults Only: Nee
Afstand tot de zee:
Inclusief: Zwembad
Aantal sterren: 3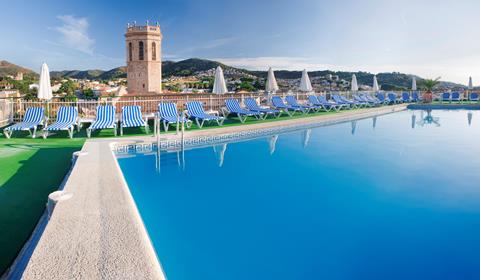 Klik hier om deze aanbieding van Merce te bekijken en boeken
Afkoelen in het rooftop zwembad, Seizoensproducten uit eigen tuin, Plezier voor jong en oud!, Waan je in de Spaanse sferen, Uitwaaien aan het strand, Op stap naar bruisend Barcelona

TUI is een van de grootste vakantie merken van Nederland, heeft een zeer hoge naamsbekendheid en een enorm uitgebreid assortiment van voordelige vakanties. Vakantie is de mooiste tijd van het jaar. Wat is leuker dan onbekommerd genieten van andere culturen, een bezoek aan een boeiende stad of te relaxen op een prachtig strand met de zon op je huid? Welke vakantie je ook zoekt, bij TUI kun je het vinden. Keuze uit meer dan 5.500 accommodaties (hotels, appartementen, vakantiewoningen, etc.) en een eigen luchtvaart maatschappij met beschikbare losse vliegtickets. Aanbod van Zonvakanties – Rondreizen – Autovakanties – Stedentrips – Kamperen – Vliegtickets naar Spanje.
Bekijk hier alle vakanties van Tui of alle vakanties naar Pineda de Mar – Catalonië – Costa Doranda
Bron: Tui.nl
Gaat u op Vakantie? Vergeet dan niet uw Reis Verzekering en deze Checklist meenemen in je koffer.
U kunt hier ook uw Vlieg Tickets boeken en een Transfer of Auto Huur regelen.
Bekijk hier de andere Vakantie Landen in Europa.